Our letter to the Maine Medical Association on their upsetting ad that dismisses the risk of adverse vaccine reactions to zero by compairing vaccines to car seats:
Subject: Vaccine Safety and Vaccine Choice
Date: Wed, 06 May 2015 12:40:51 -0400
From: Ginger Taylor <ginger@mainevaxchoice.org>
To: Lisa Ryan <president@mainemed.com>
Dear Dr. Ryan,
By way of introduction, my name is Ginger Taylor, and I am the director of the Maine Coalition for Vaccine Choice.  I am writing today to express distress over the current ad being run by the Maine Medical Association, and to invite you to join with our coalition to work to make vaccination safer in Maine.
Today it was brought to my attention that your organization is running a very irresponsible ad that compares vaccination to child car seats, and that you have now taken the position that vaccination should be mandatory.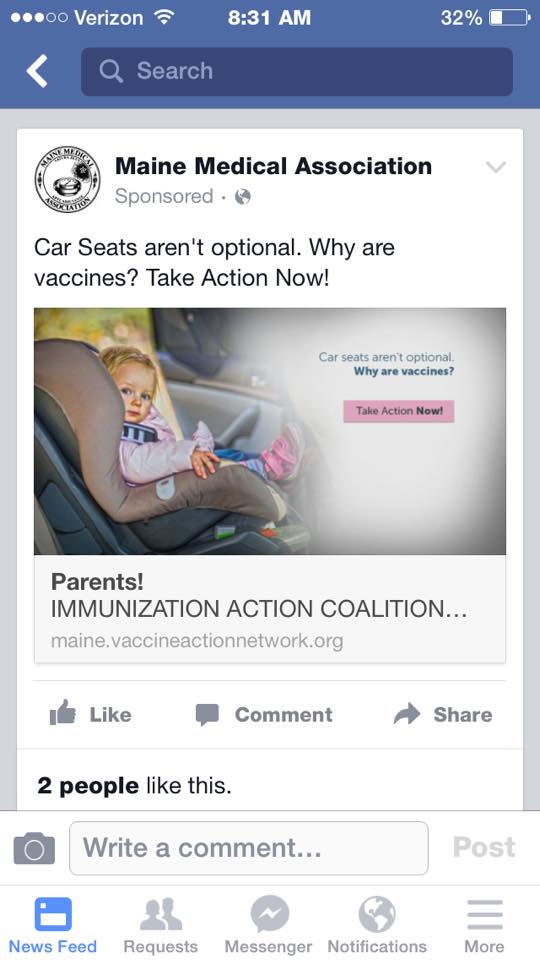 Your advertisement asks, "Car seats aren't optional.  Why are vaccines?"
Among the list of answers, as you well know, are that car seat makers are not shielded from design defect claims when their products kill or harm a child when used as directed, as vaccines are.  Car seats are not injected into the human body.  Car seats are not classified by the US Government as "unavoidably unsafe," and the known side effects of routine car seat use do not include autoimmune disorders, seizures, coma, brain damage and death.  The National Highway Transportation Safety Administation's safety officers are not under investigation by Congress for hiding potential lifelong injury from car seats, nor have any of them been indicted by the Department of Justice for fraud.  Graco is not currently in federal court, being sued by its own whistleblower employees for falsifying efficacy data.  And most importantly, there are not tens of thousands of parents claiming that car seats have harmed or killed their children, who cannot get their cases investigated by authorities or their children the proper medical care they need.
To say that this ad is a slap in the face to the families of vaccine injured children would be an understatement.  This a bad faith ad campaign that shows that the Maine Medical Association does not take its ethical obligations seriously.  Would the MMA take out ads like this over any other medical intervention?  How does this represent that the MMA takes vaccine safety seriously, or that it has any scientific integrity?  Does this actually represent the sentiment of physicians in Maine, and are they really this out of touch with science, their patients concerns and basic reason?
It is difficult to understand why your association, whose stated purpose is, "To support Maine physicians, advance the quality of medicine in Maine, and promote the health of all Maine citizens," would choose to attack the rights of families who are working to hold the National Immunization Program accountable for safety, rather than joining with parents and patients to demand that safety and transparency concerns be addressed to their satisfaction.  Why are you attacking your own customers, who have legitimate reason to be upset about the current vaccine program?
On Monday, your representative, Andrew MacLean, testified before the Judiciary Committee that the Maine Medical Association believed in working to make the vaccine program more safe.  Under the assumption that he was making a good faith statement on behalf of the MMA, the Maine Coalition for Vaccine Choice would like to extend a request and an invitation.
We respectfully request that you pull your disingenuous advertising that attacks the vaccine safety and vaccine choice community.
Additionally, we would like to invite you to partner with our coalition in implementing a basic measure of protection for families in Maine who participate in the vaccine program, by creating a basic level of education for your physicians on vaccine injury per federal guidelines and manufacturer medical information.  We would like the MMA to testify in support of our bill LD 1076, that would educate medical providers on this information, and provide a support system in the state for families with potential vaccine reactions to get proper evaluation, diagnosis, treatment and compensation via the federal Vaccine Injury Compensation Program.
Even if LD 1076 does not pass, the Maine Medical Association has the power to implement many of these programs on your own.  The MCVC would be delighted to meet with you and provide information and experts who can help you begin to implement safety and support programs that would make much of this legislation unnecessary, and would begin restore trust in the vaccine program in Maine.
Because of the way vaccine injured families have been met with indifference, medical neglect and derision as "anti-vaccine" after merely suggesting that they believe their child was harmed by a vaccine, the public is becoming acutely aware that once you have a vaccine injured child, you are on your own.  The response to this growing distrust of the vaccine program and retreat vaccine recommendations should not be to threaten families with having their child's education removed, it should be to fix the broken vaccine program, clean out the corruption in the program, institute better safety screening, and offer proper medical care and respect for those children who "took the bullet" in your war against communicable diseases.  Continuing to attack families with vaccine safety concerns will only continue to destroy the vaccine program and the health of children in Maine.
Thank you for your consideration.  I eagerly await your response.
—
Ginger Taylor, MS
Director
Maine Coalition for Vaccine Choice
207-200-8469